14/09/15 12:04 Filed in:
News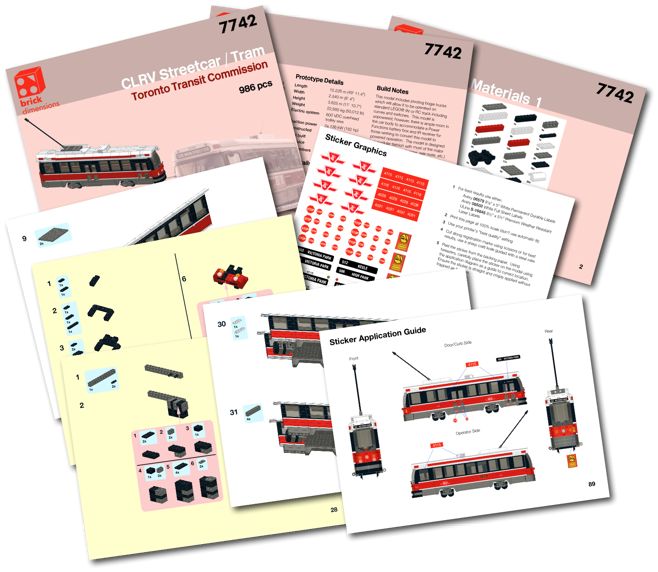 Finally, after a great deal of delay, I've completed the instructions for the Toronto CLRV streetcar/tram!
This model has generated the most feedback from folks wanting to build this model. Sadly, I've had to defer them–up until now that is! This model (like many of my others) has required redesign of many components in order to make it suitable for folks to build with relative ease. It also incorporates the use of a few helpful newer parts. One big change from my previous version of this model is the use of pivoting bogie trucks. This allows the model to be used on conventional LEGO® track including curves and switches. Initially, this model was intended as a static display model on straight track; however, a few folks asked if it could be made to negotiate all TLG track configurations--now it can!
Basic Specs:
- Piece count: 986
- Length: 57 studs
- Width: 10 studs
- Height: 83 plates (total), 49 plates (car body)
Available now
in the store
.
15/08/14 15:24 Filed in:
News
Today, I launch
brickdimensions.com
as my portal to the world sharing my passion for building detailed scale models with LEGO® bricks. My model building efforts are mainly focused on building trains and in particular British and Canadian prototypes. I started publicly posting
my creations on flickr
around Nov 2012 and since then have earned 1+ million views. I am very gratified and appreciative of the positive feedback received by many different folks in reaction to my creations. Thank you! Along the way, I have made many friends in the LEGO® AFOL community and very much enjoy the company and getting the opportunity to explore the vast number of sublime creations made by other folks. Seriously, there are some folks out there who are
seriously
gifted at building the most amazing creations–not just visually, but also mechanically. Three years ago, I had no idea that it was possible to build an 8 speed sequential gearbox with just LEGO® elements!
As well as serving as a platform for me to share my LEGO® creations in the form of custom instruction kits,
brickdimensions.com
is also a portal for me to share other ideas, concepts, experiments, successes, failures, etc. related to my LEGO® building adventures. Currently, only one kit is available for sale (#7761 - Bombardier Bi-level coaches in GO Transit green/white livery); however, kit numbers 7756 and 7742 are in active development. These instruction kits take a great deal of time and energy to put together. I want these kits to be enjoyable experiences and therefore want these instructions to be clear and the models to be robust in construction and efficient with parts. I have strived to consolidate the parts lists into the fewest unique elements, using parts which are readily available, and with commonality among different models and model variants. Please be patient with my release intervals, I will try to get as many kits developed as I can over the next few months.
If you have any suggestions or feedback with respect to the kits, please don't hesitate to
contact me
–I definitely welcome any and all input you may have!